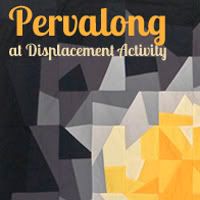 This weekend I have been mostly thinking about colours. More specifically, trying to choose colours for my own version of "Fracture", a striking solids-based quilt by Charlotte at
Displacement Activity
:
At the last LMQG meeting at Liberty's (which I still need to upload my pictures for),
Kelly
suggested that this quilt should be called "50 Shades of Grey". Charlotte had already decided that it should be called "Fracture" (it is going to be entered into Quiltcon and so needs a name). Kelly, not wishing to be dismissed out of hand, then submitted her backup choice of "50 Shades of Perv". Charlotte, possibly not wishing to upset any of the older generation at Quiltcon, stuck to her guns.
Although the quilt is still "Fracture", when Charlotte decided to do a quilt-a-long of her new pattern, it naturally became the "Pervalong". Do not fear, there is no unseemly activity involved in making this quilt. It is just a regular quilt-a-long. No funny business.
The basic idea behind the quilt is to have one colour going from strong to pale, then a transition colour (grey or natural), then a new colour going from pale to strong. I had an idea in my head of how I would like mine to look, and came up with various options on the
Robert Kaufman website
which has all of the
Kona colours
on. However, colours on computer screens are not the same as colours on colour cards, so many thanks to Charlotte for the numerous emails ping-ponging between us as to which colours might work with each other.
Here is my final colour scheme:
It is missing the darkest green because it's actually 10 colours we need, but you get the picture.
So, colours ordered (thank you
Village Haberdashery
!) and I will be on the edge of my seat waiting for the postman to bring me my lovely fabric very soon.
G x